Hey Everyone!
I've been working on a play (a musical, comedy in fact) for the past 6 weeks and Tonight (FRIDAY) is our opening night!
It's funny. It's musical. It's partially improvised. It's literate. It's not too long (an hour and a half tops). And it's f-r-e-e.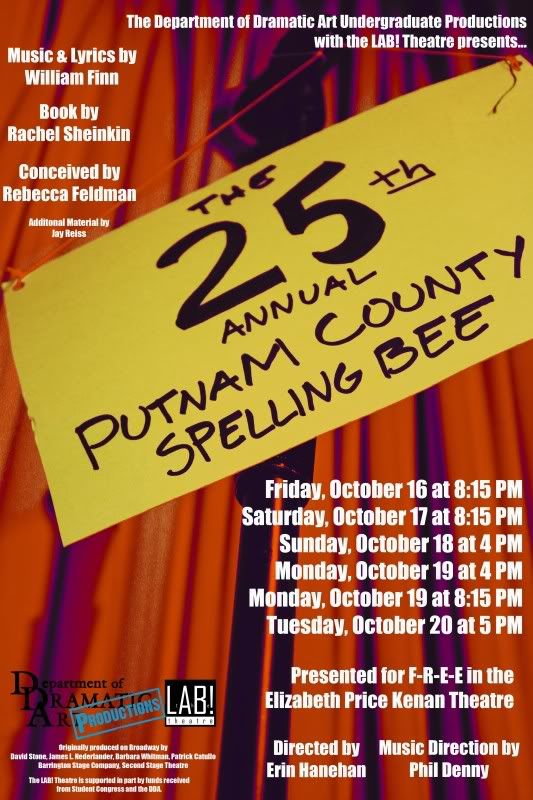 Here's a silly little promo i made fer it:
http://www.youtube.com/watch?v=2NiKfulTvHM
much love,
john(nn)
+++++++++++++
Deets:
Music and Lyrics by William Finn
Book by Rachel Sheinkin
Conceived by Rebecca Feldman
Directed by Erin Hanehan
with Music Direction by Phil Denny
Friday, October 16 at 8:15 PM**
Saturday, October 17 at 8:15 PM
Sunday, October 18 at 4 PM
Monday, October 19 at 4 PM and 8:15 PM
Tuesday, October 20 at 5 PM
**Join us for a G-A-L-A following the opening night performance!
Featuring...
Todd Lewis (Chip Tolentino/Jesus/Carl Dad)
Turner Popalis (Leaf Coneybear)
Clare Geraghty (Logainne Schwartzandgrubenniere)
Erin Farley (Marcy Park)
Carter Lynch (Mitch Mahoney/Dan Dad/Olive Dad)
Kathleen Curran (Olive Ostrovsky)
Sara Abernethy (Rona Lisa Perretti/Olive Mom)
John Reitz (Vice Principal Douglass Panch)
Bryan Burton (William Barfee)
The 25th Annual Putnam County Spelling Bee will be presented in the Elizabeth Price K-E-N-A-N Theatre in the Center for Dramatic Art.
Come early because admission is F-R-E-E!